The Highlighter tool allows respondents to select text in a concept and indicate whether they find various parts of the text favorable or unfavorable.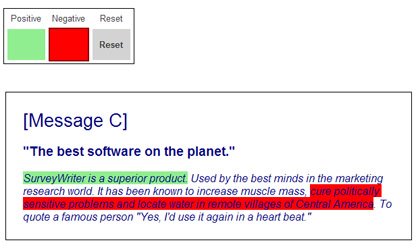 The data appears in your data set as an alpha grid question with two rows.

Multiple responses are separated by :*: such as:
SurveyWriter is a superior product:*:Yes, I'd use it again in a heart beat.:*:
To try out this new feature, click:
http://www.surveywriter.net/in/survey/survey770/highlighter.asp
To use this feature, contact SurveyWriter.